Booking a classic Kerala Houseboat and enjoying the backwaters is really a wonderful experience. But there are certain things which you should keep in mind while hiring a houseboat. You must take the right choice while selecting the one which will fulfil your demands. People used to travel in small boats as there were no other means of transport or roads to move from one place to another. For us, if it is cycle, for them they use boats to roam all around. The experience may be really surprising.
The boat cruised along narrow canals where we saw the full glory of village life. People traveled in canoes to reach the main land as many houses there do not have an approach road. Even children were using canoes the way we use cycles and bikes to move around. It was amazing! We passed by other boats and it was a delight to see the guests there having a 'Wow' expression on their faces.
How and where can I hire a Houseboat ?
A large number of Houseboats are available in Alleppey which is the connected waterways between Kochi and Kollam. Most of the Houseboats and Houseboat operators are mainly from these waterways. The Boat trip starts from Alleppey and pass through Kottayam, Kumarakom, Kollam etc. There are a number of destinations available that suits your needs. You can choose from these wide range of destinations according to your demands.
What is the hiring time span for a Houseboat?
You can hire a houseboat for as little as a day, or as long as a week!
It's your decision about the duration of the boat cruise.The hiring time ranges from one day to one week.Day trips starts at 11.30am and ends at 5pm.Majority of the people go for overnight hire where they can enjoy the calm and quietness of the lake or any other site seeing spots.The houseboats will return by 9am the next day.
Which is the best route for travelling in the waterways?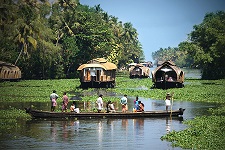 Majority of the tourists choose Alleppey as the departing place and there they have a small trip in the backwaters.The best destination places includes:
Alleppey-Kuttanad -- renowned for its paddy fields, it has an extensive network of narrow backwaters and is an excellent destination for experiencing village life. Intriguingly, farming is done below sea leave in this area.
Alleppey-Kumarakom -- many luxury resorts are located on the banks of Vembanad Lake in this area. It's also renowned for the Kumarakom Bird Sanctuary. The canals are much wider, and you'll cross the large expanse of the lake.
Alleppey-Alumkadavu -- located near Kollam, this is a particularly long cruise and is either a one way day trip or overnight return.The houseboats are traditionally made there.
What is the cost of hiring a Houseboat?
It only depends on the quality of the boat. The prices will be maximum during December to January time. The minimum rate for overnight hire without AC will be Rs.5000/-.For deluxe House boats for two will be Rs.6500/- and above. For luxury House boats it will be Rs.10000/- and above. For large sized family House boat prices starts from Rs.6000/- and above. Food will be included in the cost. Peak season is from December to January when we have the best climate and it's even possible to hire a House boat in any season at any time you want. Some people feel that the monsoon season is the best time for the backwater cruise. Special monsoon packages and discounts are available at that time. You can hire a house boat March to may also but the climate will be very hot that time, so AC will be highly recommended during that period.
When is the Best Time to Hire a Houseboat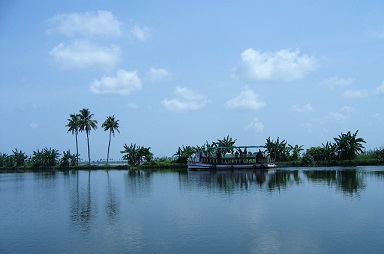 Peak season is from December to the end of January, when the weather is cooler and dry, but it's possible to hire a houseboat all year round. Some people find that the monsoon season has special appeal and choose to combine their houseboat hire with an Ayurvedic treatment. Attractive monsoon discounts are offered as well. March to May gets very hot and humid, so if you hire a houseboat during this time, an air conditioned one is definitely recommended.
One of the most tranquil and relaxing things you can do in Kerala is take a trip in a houseboat along the palm-fringed Kerala canals, known as the backwaters. Freshly cooked Indian food and chilled beer on board the boat make the experience even more enjoyable. You can even spend the night out on the middle of a lake. Stay a few nights at a hotel or resort along the backwaters too. Bliss!